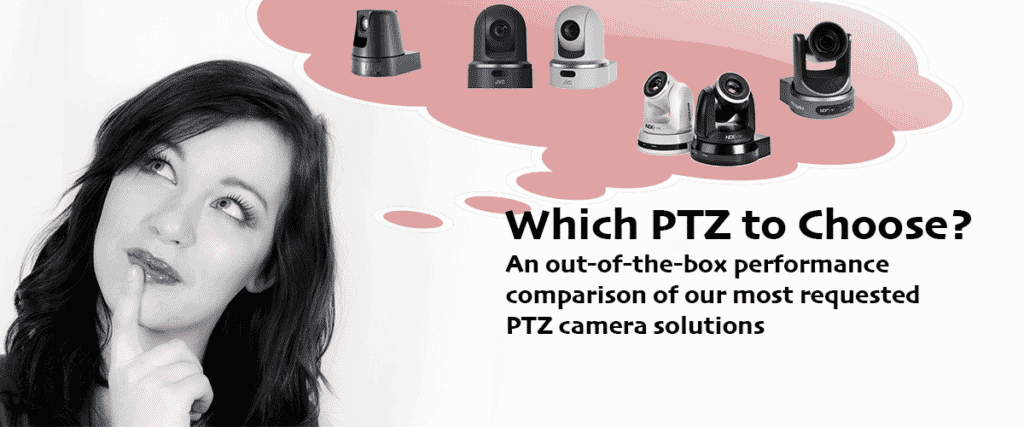 By John Basile

What is a PTZ Camera?
The Method to our Madness
Why this Comparison Matters to you
Results of Individual Camera Reviews
Conclusion
What is a PTZ Camera?
Pan-tilt-zoom, otherwise referred to as PTZ, camera solutions have made quite an impression on content producers in recent years. Although PTZ cameras are not new to the industry, recent advancements in technology and manufacturing, have made these cameras more affordable than ever. Couple this lower price-point with a more intuitive interface, and it is no wonder that more schools and houses of worship (HoW) are relying heavily on PTZ cameras.
For those unfamiliar with what a PTZ camera is or does, it is a simple explanation. Sometimes referred to as a "robocam," a PTZ camera is a smaller camera whose pan, tilt, and/or zoom movements are remotely controlled. Due to its control from a remote location, several cameras can be controlled by a single operator. This simplistic approach to a multicamera production makes PTZ cameras an ideal choice for productions with a minimal crew or which require strategic camera placement.
An Overview of our Comparison
Despite the plethora of PTZ cameras available on the market today, we here at Stream Dudes originally decided to pick three of the most asked about cameras with IP capabilities that we sold. Based on these inquiries and our historical sales figures, we chose the following cameras:
JVC KY-PZ100
Marshall Electronics CV620-NDI
PTZOptics PT20X-NDI
AIDA Imaging PTZ3-X20L
All these cameras feature native IP control and streaming, except the PTZ3-X20L by AIDA Imaging. In order to give it similar capabilities, we added the Kiloview E1 to the camera, making it a total solution for similar money as the competition. Adding the Kiloview E1, brought NDI (Network Device Interface by Newtek) technology and streaming capabilities to that camera for a total price that would still make it competitive.
Why Our PTZ Camera Test Matters to You
The idea behind this test was relatively simple. We wanted to test these PTZ cameras from the point-of-view of a "non-technical person" buying these cameras; taking them out of the box; and setting them up with little to no experience. We proceeded without the vectorscope, scrapped the idea of using an external controller, and focused on using these cameras with relatively novice experience.
"We wanted to test these PTZ cameras from the point-of-view of a 'non-technical person'…and focused on using these cameras with relatively novice experience."

John Basile, COO
This was as simple as pulling the cameras out of the box; plugging in the power; connecting to a network (as applicable); and feeding video into our Dude PC, via SDI, into vMix. Based on a lot of customer inquiries, this appeared to be the most widely used setup and use of these cameras. Again, stressing the simplistic approach to these tests: We wanted to see how these cameras performed right "out-of-the-box," with minimal tweaking.
Keep it Simple, Keep it Real
In order to keep things relatively equal, we decided to keep testing within our studio at Stream Dudes. The first round of testing consisted of running everything on factory defaults: auto focus, auto white balance and auto iris. Pan, tilt and zooming tests were performed in a similar manner, relying upon factory defaults and through the use of included, handheld remote controls.
Manually-Adjusted Settings
Next, we "manually" adjusted the settings of each camera. We use quotations here as we kept those adjustments to a novice-level as well. Here we adjusted basic settings like white balance, color saturation, iris, gain and focus. We know a lot of the die-hard video people out there would have wanted us to dive MUCH deeper into the settings, but again- that was not the purpose of this comparison.
In this scenario, we looked at the native IP capabilities and interface for these cameras (except the AIDA). We did not conduct a streaming test beyond the NDI streaming (where applicable), as we were more concerned with overall camera quality and connectivity in general. Important to note: we did our NDI testing on a 1Gb PoE+ switch to ensure maximum performance. Not once did our vMix production software have an issue finding a camera via NDI or show any issues with the streaming video.
Results: How These PTZ Cameras Compare with one Another
In no particular order, we will discuss these cameras with more detail, and highlight features and findings worth noting. At Stream Dudes, we resell and integrate several camera brands, and have found that there is no "one camera" that is perfect to everyone. That stated, we do our best to stay unbiased and factual as we hope is conveyed in this comparison.
For your convenience, we have provided links to easily navigate to and view the specific product's results.
CV620-PTZ-Cam by Marshall
PTZ-Optics PT20X-NDI PTZ Camera
PTZ-Camara-Comparison-Slider
Return to First Page of Article
Conclusion
Competition in the PTZ camera arena is heating up for sure. As prices drop and user-friendliness improves, we will see more HoWs, emerging web streamers, E-gamers and educators gravitating toward PTZ camera solutions. Here at Stream Dudes, we hope that this friendly comparison may make it easier for you to find the right camera for your needs. If you need additional guidance with purchasing and/or integrating a broadcast or streaming solution, give us a call at (715) 972-3833 or visit us at www.StreamDudes.com for more information.