Peplink MAX BR2 pro 5G Cellular Router

Peplink MAX BR1 pro 5G Cellular Router

Peplink HD4 MBX 5G Cellular Router

Peplink MAX Transit Pro Router

Peplink MAX Transit Pro Router
Connect, Monitor, and Manage from the Cloud, with Peplink
Take your studio wherever your production takes you…with Peplink and their Unbreakable VPN.
So what exactly does Unbreakable VPN mean?
As a leader in IP video workflows, Stream Dudes listens to the needs of our clients. In this case, the ability to transfer data. Especially between remote crews and local studios, hence our use of Peplink products.
With Peplink, connecting with field production crews with your main base of operation or studio, is both easy and affordable. Using bonded cellular connection, in combination with Peplink's Unbreakable VPN, you can access and share data (live streaming video, pre-recorded files, etc.) between locations with ease.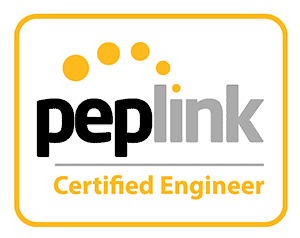 With networking solutions like the Pepwave Max HD4 and Balance VPN routers, Peplink is the next-generation of remote broadcasting. User-friendly, cost-effective and reliability, are all hallmarks of Peplink products, and the reason that Stream Dudes is a Peplink Certified Engineer.
Peplink FusionHub Virtual SpeedFusion Appliance
FusionHub is the virtual "SpeedFusion" appliance from Peplink. With FusionHub, you can establish SpeedFusion connections between cloud servers and physical Peplink devices. FusionHub runs on nearly all mainstream virtual machine software including Amazon Web Services, VMware, Citrix XenServer, Oracle VirtualBox, and Microsoft Hyper-V.
Make SpeedFusion connections to your data center or cloud servers with the combined speed of all your WAN links
Combine any type of connection from multiple ISPs to create a highly available connection between your device and your FusionHub
See the web domains your clients visit and the applications they use
Integrate data centers and cloud servers into existing physical SpeedFusion networks
Deploy on ANY cloud server
Pepwave Max HD4 Quad LTE Mobile Router
The Pepwave MAX HD4 quad LTE mobile router delivers outstanding performance from all your connections with the help of SpeedFusion bandwidth bonding and intelligent load balancing.
Quad embedded cellular modems
Redundant SIM slots
SpeedFusion bandwidth bonding and seamless failover
"Certified tough"
Terminal block for secure power supply
Built-in 8-Port GE switch and optional PoE output
Multitude of compatible carriers
Pepwave Max HD2 Dual LTE Mobile Router
The Pepwave MAX HD2 dual LTE mobile router gives you blazing fast connectivity on the road with dual embedded cellular modems and SpeedFusion bandwidth bonding, plus a built-in 4-port GE switch to reduce clutter in your mobile deployments.
Dual embedded cellular modems
SpeedFusion bandwidth bonding and seamless failover
"Certified tough"
Terminal block for secure power supply
Built-in 4-Port GE switch
Multitude of compatible carriers
Pepwave MAX Transit Duo
Way more than just a compact, rugged router, the MAX Transit Duo makes it possible to simply "do more" from the road. Looking for a solution that can combine location internet with cellular connections for more speed and stability? This is it! The Pepwave MAX Transit Duo bundles SpeedFusion VPN technology and FusionHub Solo together in Peplink's affordable PrimeCare package.
Two embedded 4G LTE-A cellular modems
WAN Port (can serve as a LAN port as well)
LAN port
Dual Band Wi-F
Wi-Fi as WAN available
PepVPN
High-Speed SpeedFusion VPN with hot failover and WAN smoothing (available with PrimeCare)
The Pepwave Balance Routers
From straightforward yet powerful dual-WAN routers for small offices, all the way to SFP+ capable 12-WAN enterprise routers, the Balance series has an ideal fit for any deployment fixed line deployment.
Load Balancing and SpeedFusion bandwidth bonding to deliver superfast VoIP, video streaming, and data using an SD-WAN enabled network.
Enterprise functionality "made simple"
Content caching technology enables on-the-fly content delivery and downloads.
Monitor and remotely configure your network from any web browser using InControl 2
To learn how to improve your remote productions, or speak with a product specialists, Contact Stream Dudes for a customized workflow consultation.

---
About Peplink
Simple, Unbreakable Branch Networking, Anywhere
From the Peplink's beginnings, Peplink ventured to design, as they describe, the most reliable and easiest-to-use routers. Since that time, Peplink developed multi-WAN VPN bonding (SD-WAN) routers and access points with features that consequently, other providers find difficult to match.
Features include:
Industry-leading durability
Straightforward and intuitive web interface
Wide range of features
From home-office users, to enterprise-branch networks; from the studio to emergency vehicles; Peplink aids 1000s of customers in the migration from traditional WAN to SD-WAN solutions. In addition, Peplink's customers report increased bandwidth, higher WAN reliability, and lower costs. Visit Peplink to learn more about their products.